Location
Hashknife Horses is a family operated business located just south of Ryegate, MT.  We are named after the Hashknife brand that was given to Brandon by his grandfather Yates Allen.  This symbol brand has been in the family nearly 100 years!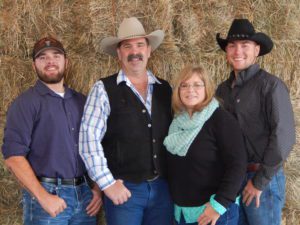 ---
Tradition
Brandon began his horse training career quite young in life, training his first horse at age 9.   He continues with a tradition that began many generations before him on both his parents' sides of his family. His ancestors are known as accomplished horsemen and cattlemen who made their living from the back of a horse.  Brandon continues the tradition of horsemanship and training passed to him from his grandfathers Yates Allen and Wayne Carpenter, and his father, Tex Carpenter.   This tradition and heritage is again being passed on to Brandon's sons, Calen and Braden with the unwavering support of their mother, Lisa.
---
Sales
We are NOT a horse trading business!  We are breeders and trainers who showcase our own horses.  We do not purchase previously trained horses for finish or improved training for speculation sales.  Occasionally, as demand exceeds our supply, we will carefully screen and purchase a young untrained horse.  We put that horse through our training and have it available for sale only after it proves itself.
---
Facility
Our facility overlooks the beautiful Musselshell Valley in south central Montana.  We are witness to the view of  the Crazy, Belt, Snowy and the Beartooth mountain ranges.
Our facility is simple and gadget free! We pride ourselves on starting colts straight with no gimmicks.
We enjoy sharing the joy of our horses and all horses.  It is important to us to help educate horse owners about not just our horses, but all breeds alike.