---
Find out what others have to say about our services listed below.
Click on Testimonials to read what our customers have experienced.
Horse Clinics
Brandon is a horse clinician and trainer of gaited horses and non-gaited horses alike. His clinics are well advanced in terms of horse communication. He teaches you how to recognize and use your personal energy and personality type to influence your horses behavior. You will not only observe how he does this, he will teach you how to do it yourself and apply it to your horse. The results you see and feel will deepen your understanding of horsemanship and increase the performance you desire from you and your horse.
To host a clinic e-mail us at hashknife@hashknifehorses.com
Clinics are being scheduled now.
To make an initial deposit or full pre-payment for a clinic use the PayPal option through the Pay Online Now button below.
Round Corral Communication is the foundation where you define the relationship with your horse.  Brandon clearly identifies cues to watch for, what they mean, and how to use the horse's herd behavior to embed training into the horses mind.  He shows you how to better communicate by using natural horse behavior and your personal energy.  You will be able to communicate not just physically with your horse, but mentally and emotionally as well.   What sets this apart from most roundpen work, is that the horses are not run until tired to get a desired response.  The horses are worked based on the behavior they display.  Each horse is handled as an individual in order to communicate with them quickly and effectively.  This is training without mechanical aids.  It is you and the horse building your relationship from the ground to great.
---
Horsemanship is taught based on the needs of each individual rider or horse/rider combination regardless of skill level.  Novice and intermediate riders learn how to use their feet, seat and hands to effectively balance to help themselves and their horse move as a team.   Often, advanced riders are able to increase their skills by going back to basics to correct poor habits, then build on that foundation for more skilled horsemanship.  Brandon then continues with the more advanced rider to increase their skills and their relationship with their horse.  Discipline for the horse is taught to all riders to maintain their status as the dominant member of the herd.  Herd behavior is what horses respond to best and most naturally.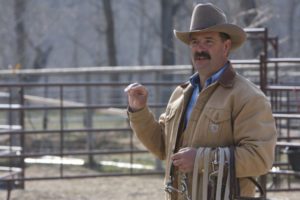 Sharing the benefits of a light rein on a horses mouth and how that increases performance and relaxed natural movement.
---
Gaiting is one of the most beneficial ways to continually make your horse follow your direction as a leader.  This applies to gaited and non-gaited horses alike.  Conformational considerations on each horse is explained to show what a horses natural gait tendencies will be based on skeletal structure.   Differentiation of gaits is taught in these clinics with explanation of foot fall sequence and what defines a particular gait. Brandon teaches how to get the best and most natural gait from your horse.  He is very successful with reading gaits and being able to "collect" horses naturally without mechanical aids.  Brandon shows how to correct a "trotty" or "pacey" horse to get an even 4 beat gait naturally.  Getting the horse to gait naturally and consistently with a loose rein is a trademark of his training.
He works with all breeds of gaited horses!
---
Training (colt starting) covers the components of herd behavior and integrates the communication skills with necessary ground work to start a horse under saddle.  Techniques are taught to quietly and effectively begin and strengthen the "bonding and trusting" process.  These ground work techniques are demonstrated to show how building a proper foundation keeps a horse working naturally and willingly.  As an example, Brandon explains and demonstrates how solid ground work makes it unnecessary to use such training devices as tie downs or martingales to keep a horses head in a natural position.  Ground work is the most important aspect of training.  If a horse listens to you on the ground, he will listen to you when you are on his back.
---
Correcting problem behaviors is accomplished by Brandon showing participants how to "read" or "listen" to their horse, and recognize what the horse is thinking.  Brandon demonstrates how to communicate with the horse using natural herd behavior.  These techniques then foster and reinforce behavior that is acceptable and productive to the relationship while discouraging poor or unacceptable behavior.  Brandon believes in teaching all clinics through demonstration and by physically helping each participant work with their horse with those communication skills.  This work is close and personal with both the horse and rider.
---
Backcountry packing is taught mainly from the technical aspect.  All skills are not only demonstrated, but the participant actually builds loads and packs an animal.  Learning to pack with mantees, pack boxes, and top packs is covered.  Knot tying and rope work including tying hitches (basket, barrel and diamond), high-lining and picketing is covered.  Supply and equipment needs, load preparation, food concerns, camp logistics, horse care and safety aspects of packing and camping in the wilderness give the basic skills for the overnight or hunting trip for multiple days.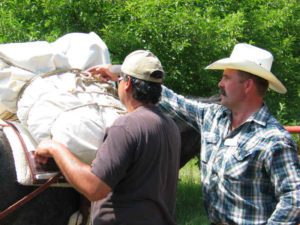 Throwing the basket hitch and positioning the mantee on the pack saddle during a backcountry pack clinic.
---
Foal imprinting is a very important and beneficial beginning to the training of a horse that will last a lifetime.  However, it is crucial that it is done properly and consistently.  Brandon covers imprinting from start to finish.  He points out both pitfalls to avoid, and essential exercises that make all the difference in forming and reinforcing good behaviors.  Good imprinting will pay dividends by the bucket full for horse handling before, during and after formal training.  It is the essential foundation of horse training.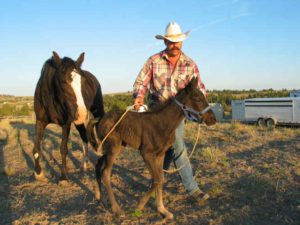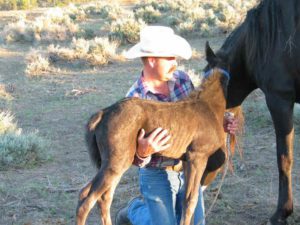 ---
Clinics are one or two or three day events depending on the clinic agenda.

If you have something creative in mind for your clinic experience, simply ask. We are flexible.
---
Horse Sales
Those horses currently for sale are showcased on this web site in the sale barn.  Be sure to take a peek!  If your interest lies in one of these fine creatures, please speak with or e-mail Brandon about the horse's disposition, gait, etc. We want to match the right horse for you and your needs.
We are NOT a horse trading business!  We do not buy previously trained horses to improve or finish training for speculation sales.  We are horse breeders, and sell only horses we have raised and trained.  Occasionally as demand exceeds our supply we will carefully screen and  purchase a young untrained horse.  We then put that horse through our training and have it available for resale only after it proves itself.
---
Horse Training
30 Day Colts – This doesn't mean we work the horse for 30 days then call to say, "pick up your horse."  This means a colt has to perform to Brandon's list of specifications before the horse gets to go home, regardless of the time it takes to get the job done!   Training is done so that the horse is ready to use not just ride.  Brandon's father Tex coined the phrase "Using Horse" many years ago.  Others have picked up on this phrase to sell horses and training.  It simply means one horse can be used for any number of jobs.  Each horse can rope, pack, trail ride, etc. instead of specializing in only one discipline.  Ask Brandon personally to learn more about those specific lessons a colt must pass with proficiency.   Brandon has trained for owners as far away as the east and west coasts.  Training reservations book quickly, so to reserve a training with Brandon, e-mail us at the address below.
---
Individual Riding Lessons
Lessons designed to help you and your horse to communicate better with one another. These lessons are guided based on individual needs.  Our main goal is to become obsolete! Yes, obsolete. We want you to learn to become self directed in your horsemanship. We do not feel you should become dependent on us as a trainer, but we are always available to help guide you in any problematic areas that may arise from time to time.
Customer service is very important to us at Hashknife Horses! We want you satisfied with the results you get for yourself and your horse, whether that is from the purchase of one of our horses or the training you receive from Brandon.